Medicinal mushrooms have been used in traditional medicine for thousands of years to help fight various diseases and conditions. In recent years, there has been an increase in their study and use for their potential anticarcinogenic properties. Many studies have investigated the anticarcinogenic properties of different types of medicinal mushrooms.
Over the past decade, a growing body of research has shown that various types of mushrooms are helpful in fighting and preventing multiple types of cancer. These studies test whether these compounds have anti-cancer properties and see if they are suitable as an alternative treatment. Medicinal mushrooms include several species, including Maitake mushrooms, Cordyceps and others.
While more research is needed to understand how different medicinal mushrooms work, preliminary evidence suggests some fungi may have anti-cancer properties. Moreover, some species appear to be more effective than others at fighting certain types of cancer.
This article explores the current state of research surrounding medicinal mushrooms and cancer; we discuss properties that could make these fungi effective treatments for some cancers, as well as why they may not be effective against other types.
What is a Medicinal Mushroom?
Medicinal mushrooms are fungi used in traditional Chinese, Japanese, and other East Asian medicines. Although the cultures that used these fungi may have discovered them accidentally, some species have anti-cancer properties. Recent human studies show that at least some medicinal mushrooms might be helpful as a cancer treatment. Although medicinal mushrooms are fungi, they are not all mushrooms. "Mushroom" is a catch-all term for several types of fungi that have a specific shape and grow in particular ways. Medicinal mushrooms are not all the same, but they do have several things in common:
Medicinal mushrooms can grow in the ground, unlike the fruiting mushrooms that grow on trees and are used to make food.

Medicinal mushrooms are generally parasitic or symbiotic: They either grow on or in the roots of trees or live in a mutually beneficial relationship with other organisms (as with many types of lichens).

Most medicinal mushrooms are either a species of fungus or a species of club-like parasitic plants called lichens.
These fungi and parasites are widely used in Chinese, Japanese, Korean, and other East Asian medicines to benefit overall health and immunity. A medicinal mushroom is any type of mushroom or fungi with medicinal benefits; they are considered the most regenerative and healing foods on the planet.

So Which Medicinal Mushrooms May Fight and Prevent Cancer?
Cordyceps
The fungus Cordyceps, found in traditional Chinese medicines, can fight cancer by blocking the growth of new blood vessels that tumours need to grow. Research has also shown it may also kill cancer cells directly. In early research, cordyceps improved the survival rate in mice with melanoma skin cancers, lung cancers, and breast cancers. Cordyceps have been studied in people with other cancers, including colorectal and kidney cancers. While these studies are limited and don't show that cordyceps reduce cancer risk, they, however, do suggest that they may improve certain aspects of quality of life, such as fatigue and reduced kidney function when undergoing chemotherapy. 
Maitake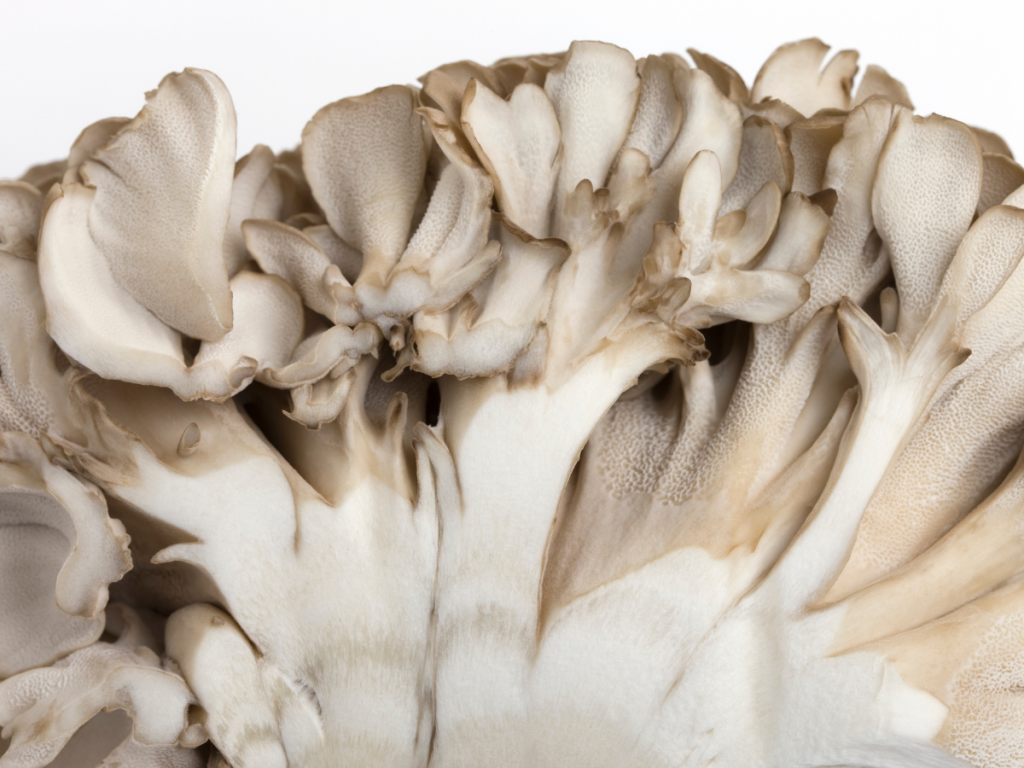 Maitake mushrooms have shown potential as a cancer treatment. They appear to kill cancer cells directly, stop cancer cells from spreading, and boost the immune system's ability to fight cancer. Maitake also may reduce side effects from chemotherapy and radiation therapy. Maitake supplements have been studied in people with breast, colorectal, and liver cancers and leukaemia. Although more research is needed to determine their full effect, maitake may improve the quality of life in people with cancer. Maitake extract has also been studied in mice bred to develop breast or liver tumours. In these studies, maitake significantly slowed the growth of and killed cancer cells in the mice.
Reishi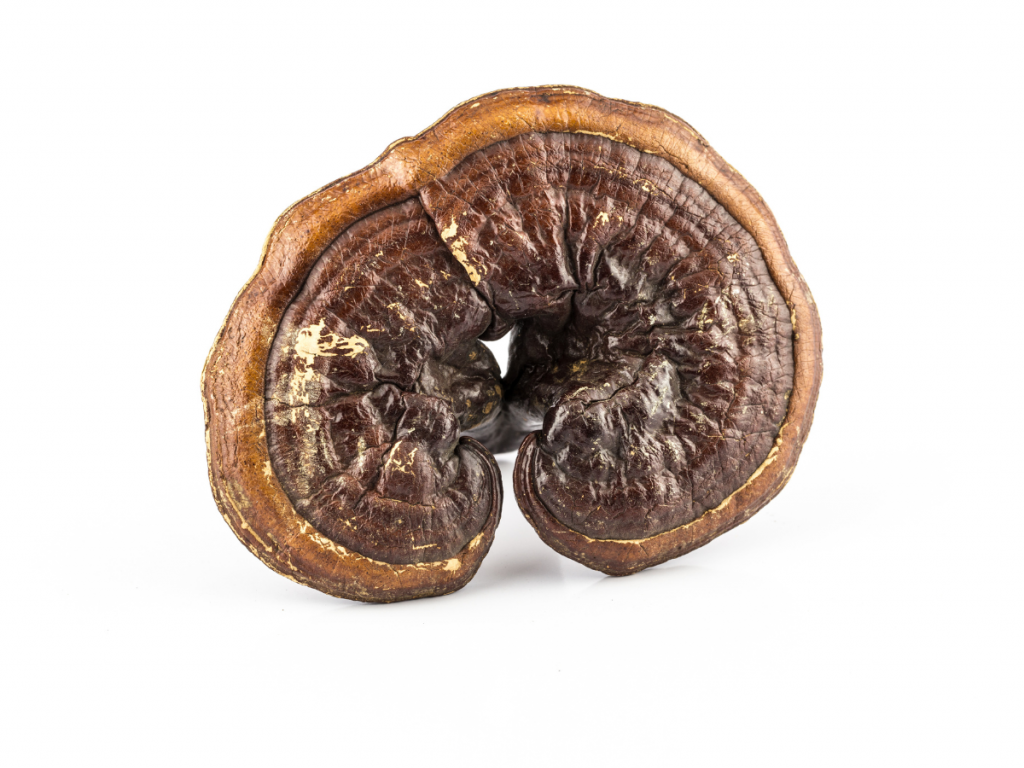 Reishi mushrooms, which grow on decaying logs, have long been used in traditional Chinese medicine. Studies show that reishi may fight cancer by boosting the immune system, inhibiting cancer cell growth, and killing cancer cells directly. Ganoderma lucidum extracts ( a type of reishi mushroom) have been studied in mice and rats bred to have liver, breast, colorectal, lung, prostate, and pancreatic cancers. In these studies, reishi significantly slowed the growth and helped to kill cancer cells.
Shiitake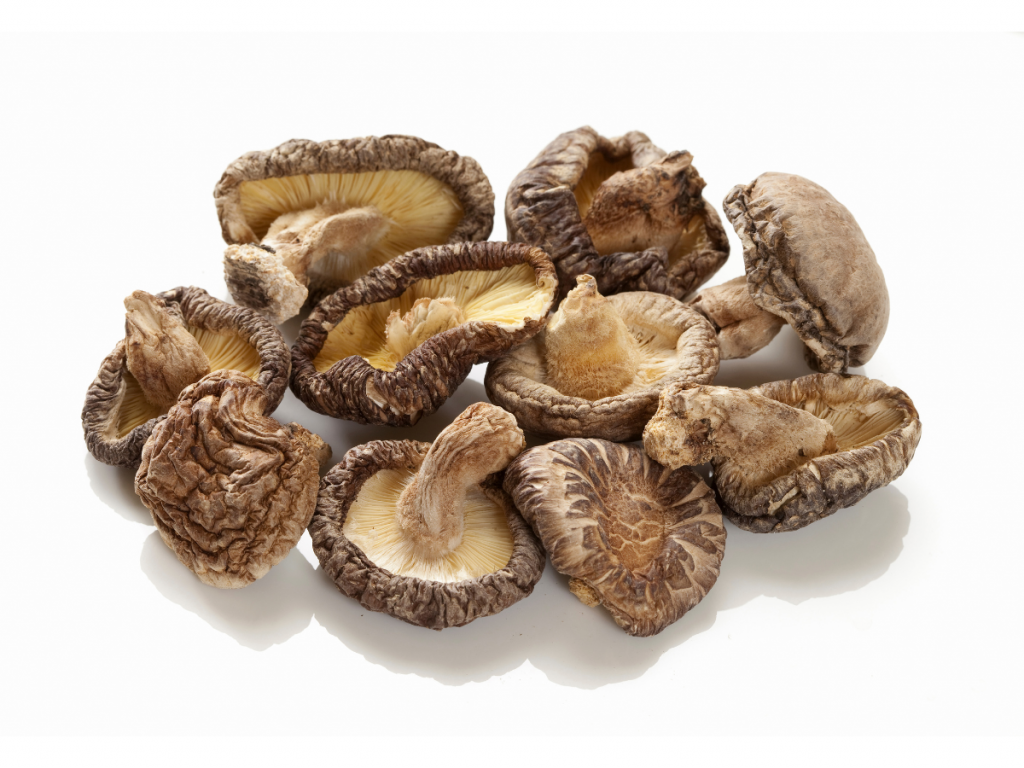 Shiitake mushrooms are widely used in Asia because of their abundant health benefits, including healing skin, supporting the liver, fighting cancer, increasing qi energy, and fighting cancer. From studies, scientists think that beta-glucans such as lentinan, found in one shiitake extract, may stimulate the immune system and prompt specific cells and proteins in the body to target cancer cells. Studying lentinan in laboratory settings seems to slow some cancer cells' growth.
It appears to slow the development of bowel cancer cells in mice. In addition, lentinan has been shown to halt the proliferation of some fungal cells in lab tests. It can also stop leukaemia cell division. Japanese scientists deliver lentinan and conventional medical treatment to patients with non-small cell lung, nose, throat, and stomach cancers. 
Agaricus Blazei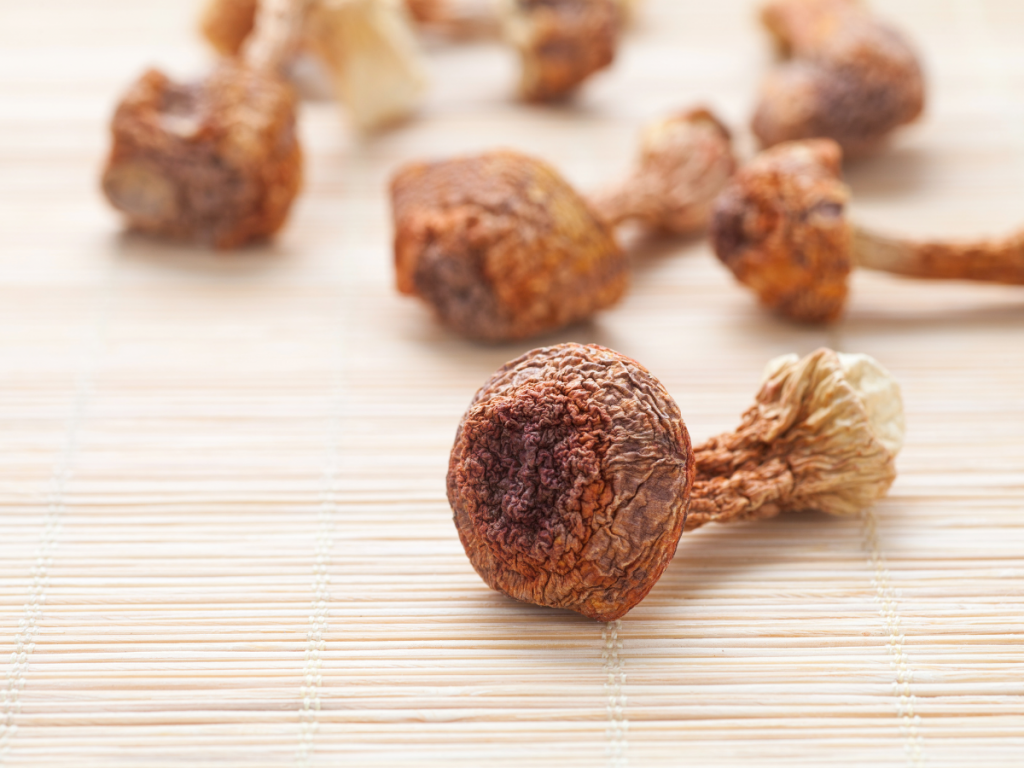 Agaricus blazei has been used for medicinal purposes for thousands of years, but it has recently gained popularity for its immune-stimulating abilities. According to Brazilian legends, those who consume this particular mushroom on a regular diet suffer fewer illnesses. Studies have shown Agaricus Blazei has potential benefits for those with lung cancer, breast cancer, ovarian cancer, and sarcoma. In addition to cancer, Agaricus blazei has been shown to impact other types of illness. It is even used for modern oncology cases.
Turkey Tail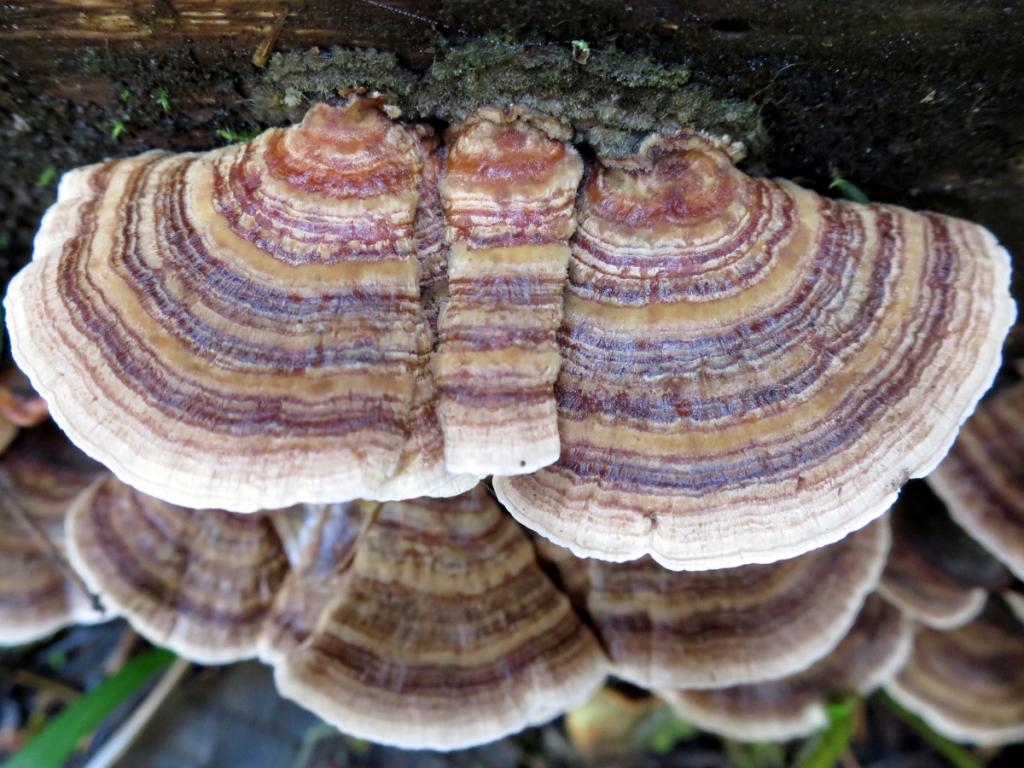 Turkey tail is widely used in Chinese medicine to prevent colds and flu as it strengthens your immune system to fight infection and disease. It is also used in Japan for treating cancer patients and especially for people undergoing chemo because of its potent antioxidant properties and ability to remove free radicals from the body.
According to studies, the Turkey tail mushroom does not allow tumour cells to spread. It prevents the invasion of the cancer cells by inhibiting the production of enzymes that help the process. Studies have shown promising results in patients with breast cancer, colorectal, stomach and other types of cancer. Many trials had reported improved survival in lung cancer patients when scientists combined Turkey tail mushroom extract with radiotherapy and chemotherapy. 
Chaga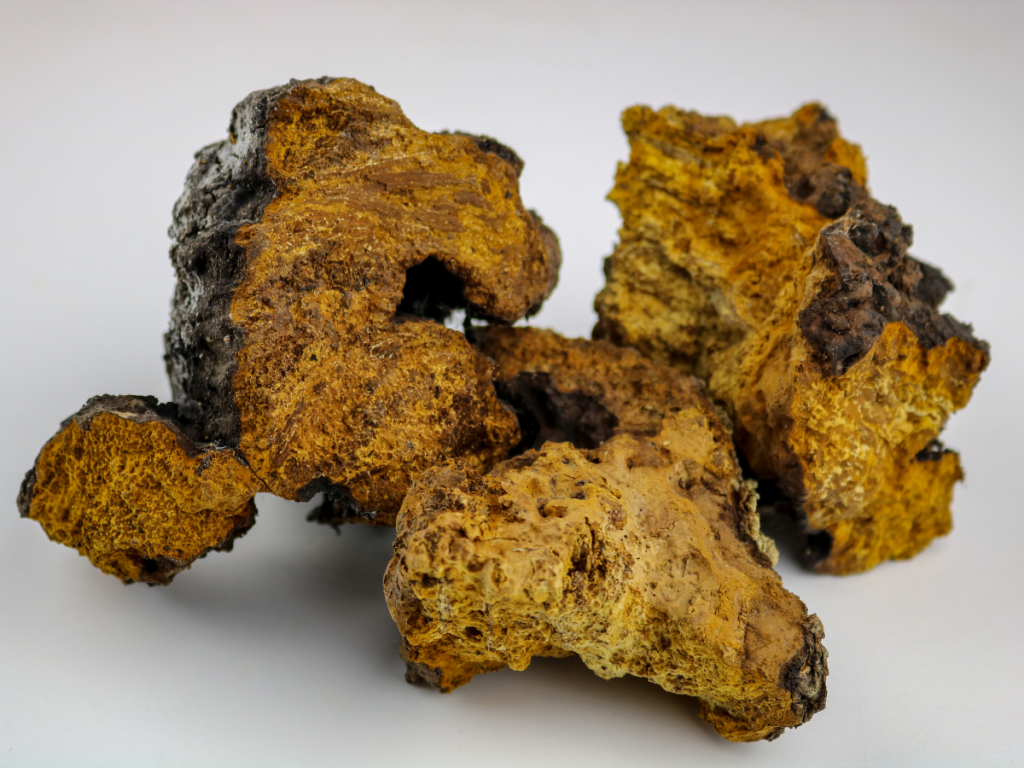 Chaga is harvested from birch trees and made into a medicinal tea to aid with various ailments, including problems with digestion, pain from swelling, insomnia and high cholesterol and blood sugar levels.
Commonly known as black gold, it is one of the highest sources of natural antioxidants to aid with bulletproof immunity. It has been used to treat cancer in Russian and Siberian folk medicine for its adaptogenic benefits, meaning it helps balance the body and adapt to stressors better. Chaga contains polysaccharides, triterpenes, ergosterol, and small phenolic compounds, which have been shown to exhibit anti-cancer effects. Studies have shown that Chaga benefits liver tumours, breast, lung, sarcoma cells and skin cancers.
Meriting and Spirit Licorice 
Meriting and Spirit Licorice are two herbs traditionally used in Chinese herbal medicine to treat cancer. Meriting is a type of fungus, and Spirit Licorice is a type of root. Methanolic extracts of Meriting have been studied in mice bred to have liver cancer. In these studies, meriting slowed the growth of and killed cancer cells in the mice.
Conclusion
In conclusion, medicinal mushrooms contain many compounds that may be useful for cancer treatment. These fungi have been used in traditional Chinese, Japanese, and Korean medicines for their anti-cancer properties. Research suggests that some fungi fight cancer by blocking the growth of new blood vessels that tumours need to grow, killing cancer cells directly, boosting the immune system, and more. Cancer patients will gain several essential benefits if medicinal mushrooms are as effective as their proponents claim. By reducing tumour size and preventing metastases, these compounds could increase the number of people who survive cancer. They could also reduce the health care costs associated with cancer treatment. And they could improve the quality of life of people with cancer by reducing side effects. With all that in mind, medicinal mushrooms are among the many promising natural products being explored as treatments. 
According to Western Medicine, more research is needed to determine if these mushrooms can prevent or fight cancer in humans; in contrast, in the East, medicinal mushrooms are prescribed in hospitals for various ailments, including fighting and preventing cancer. They are considered safe and natural alternatives instead of or in conjunction with other cancer treatments. It seems modern Western medicine is only rediscovering these ancient superfoods, whereas, in Asia, they are among the most potent functional natural medications used to fight and prevent cancer. Our organic nootropic mushroom and herbal complex – 'Sacred Shrooms' contains five medicinal mushrooms.