The word Chakra comes from the Sanskrit word meaning wheel. They are energy vortexes located at certain points in the human body. It is taught that there are twelve to fourteen chakras in the body with seven major ones that rotate and draw in energy ancestrally known as Prana or Chi/Vril energy. According to Vedic scriptures, there exist thousands of channels known as nadis which translates to 'tube' or 'flow'. These are utilised by your astral body similar to how the nervous system works. More on this later.
Nadis are pathways through which prana flows and chakras are its energy points. These energy points act as gateways to consciousness and transform and regulate the flow of vital prana throughout the body. Prana is universal lifeforce energy that flows throughout the human body and the universe itself, giving life to all that exists. Prana means breath and is considered the essence of spirit. The best way to utilise prana is through breathwork.
The concept of the chakra system originated in the Vedic texts of ancient India but perhaps they are much much older. Ayurveda teaches us that every living being is so because of the pranic energy that flows through the body via the nadi channels. The chakras in the body deal with certain aspects, whether they be physical or emotional. We will focus on the main 7. Each has its own colour and is linked to a certain element, planet and to one of the 5 senses. Shaped like a lotus flower, each has its own number of petals and is connected to the other chakras which is why harmonisation of all is important. By rotating anti-clockwise and clockwise they are able to draw in and release prana. We will focus on the main 7 now.
The Seven Main Chakras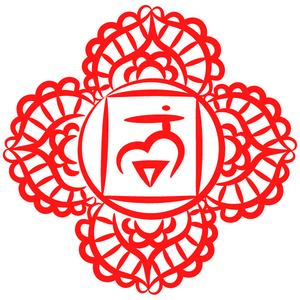 Muladhara
The first chakra is known as the Root chakra or Muladhara in Sanskrit which translates as "root support" and is associated with the Earth Element, the sun also with the sense of smell. Its colour is fiery red and it is linked to the adrenal glands. Located at the base of the spine it is shaped like a 4 petal lotus. Its function is to keep you grounded as it deals with your survival from breathing to eating and physical security.
When balanced you will feel a deep sense of peace and know what you want to bring into the world and how to accomplish this along with all your particular basic needs being met. If out of balance it is said you will live a reckless life and rush into things without thinking. Other characteristics of an out of balance root chakra are selfishness and a lack of self-sufficiency meaning you are always depending on others.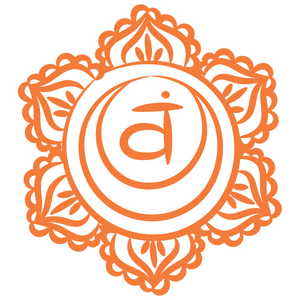 Svadhisthana
The second chakra is known as Svadhisthana in Sanskrit or the Sacral chakra meaning "your own place". Its colour is orange and deals primarily with the emotional body. It is associated with the sense of taste and is directed by the principle of pleasure. It deals with the water element and is linked to the moon. Located three inches below the navel it is associated with the lymphatic system it deals with emotions and feelings, the source of our passion and vitality.
It primarily deals with our ego and we see ourselves in relation to others. When in harmony passion and creativity will flow freely having a joyful and playful outlook on life with a healthy ego. When out of balance it is said the person will be prone to addiction and be extremely self-indulgent as they will be ruled by their unhealthy ego.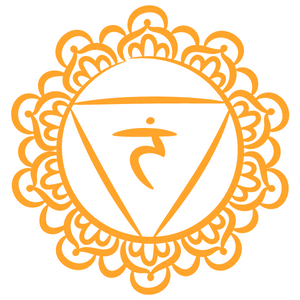 Manipura
The Solar Plexus Chakra or Manipura in Sanskrit is yellow/orange. Manipura is associated with the element of fire and is linked to the sense of sight and the Sun. It is said to be related to your lower back, pancreas and stomach. Located directly where your navel is it is said to resemble a 10 petaled lotus. This chakra primarily deals with one's emotions, willpower and self-assertion i.e how dominant a person is. It is the centre of your true personality linked also to your initiative. Courage and enthusiasm stem from this chakra also self-control and discipline.
Another aspect of the Manipura is that it controls one's desires and is heavily influenced by the ego. It is said to be very receptive to energy especially other peoples, which is where we get the term "gut feeling" from. A person whose navel chakra is in a harmonious state will be a natural leader, extremely determined, have strong willpower, be courageous and will follow their own initiative as opposed to just following orders. A strong sense of self will also be present with a feeling of contentedness along with a healthy ego. If out of balance or blocked it is said that a person would be too dominant, arrogant and controlling and heavily influenced by their ego. A lack of self-control will also be present often succumbing to their own desires.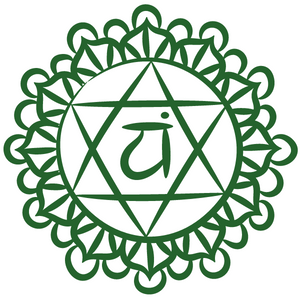 Anahata
The heart chakra or Anahata in Sanskrit deals with the ego and is said to be green. It deals with the air element and the sense of touch. The gland that is associated with the heart chakra is the thymus gland and it is linked to your circulatory system. Located in the centre of one's chest the heart chakra is a 12 petaled lotus whose function is to allow empathy in order to sympathise with others dealing with the emotions of love and affection. Said to be the seat of your deepest and darkest emotions it connects your 3 higher chakras and your 3 uppers together and is where your true strength comes from. The harmony of this chakra will determine how conscious a person is.
When it is balanced a strong urge to help people is present with a strong perception of life and an affinity towards the subtleties of beauty in nature and other people. The person is full of love and compassion this radiates from their entire being. Considered the main chakra which is why its harmony is so important as it has a great influence on the others. When out of balance or blocked the person will have issues giving or receiving love and or affection and will also find it difficult to let things go often holding onto unresolved issues and grudges over long periods of time. It is said you will also be easily offended and take things to heart and often play the victim.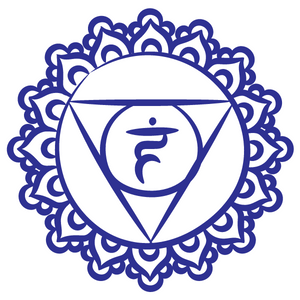 Vishuddha
Vishuddha or the Throat chakra means pure or purity and is associated with the element "ether" or akasha in Sanskrit and is blue. It is linked to the sense of hearing and the thyroid gland and associated with the lungs, oesophagus, vocal cords, throat, jaw and back of the neck. It is located in the centre of your neck under your voice box. This chakra is a 16 petalled lotus that primarily deals with how we express ourselves and communicate with the world. It governs our higher creativity and through this chakra, we express how we feel and what we think.
A person with a fully harmonious throat chakra is able to express themselves without fear and they do not hide their true emotions and will always speak the truth and are very good listeners. When out of balance and or blocked a person will struggle to express how they truly feel and hide their true inner emotions. They will "put on an act" and pretend to others and themselves often being labelled as "fake" by people around them. Their words will lack any meaning because it is all an act, a show shrouded in deception.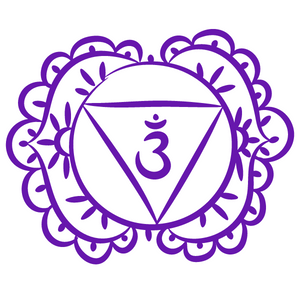 Ajna
Next, we have the third eye chakra which is known as Anja in Sanskirt which means "perceiving". This chakra is an indigo colour and deals with all senses including extra sensory perceptions. It is linked to the pituitary gland, the ears, eyes, nose and face, its location is between your eyebrows. Said to resemble a 2 petaled lotus it deals with the aspects of self-realisation and self-authority i.e the term "know thy self". It governs our perceptions and ultimately our consciousness and how we "see" the world. The third eye chakra's purpose is to give you a broader perspective on perception.  Your perception and how you see the world creates your reality so someone with a closed or blocked chakra will not be able to see higher truths and will be living in a very narrow-minded state of perception.
When developed a very high level of intuition will become available allowing for better creativity and higher spiritual awareness with dreams and visions becoming deeper and more vivid. The harmony of the lower 3 chakras plays an important role in what we can essentially perceive so a good balance of all is ultimately necessary in order to fully utilise your third eye. This is why Meditation can make a huge difference as we need to not let our emotions control our thoughts, the calmer the state of mind the easier it will become to harness the powers of your Ajna chakra. When in balance an urge to seek truth will be present and the person will naturally gravitate towards and seek higher truths but on the downside, it will be more difficult to connect with others. If blocked or not in harmony thoughts will be overwhelming and a state of confusion will be present and often you will desire things you just do not need.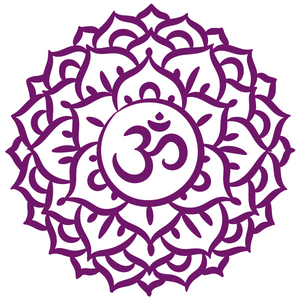 Sahasrara
Finally, we have the Crown chakra which is known as Sahasrara which means " a thousand" and refers to the spiritual self. It is linked to the hypothalamus gland and some say your pineal gland but this is debatable. Its location is at the top of your head and is a 100 petaled lotus with the function of connecting you to the divine force in the universe by drawing in cosmic energy, it is a violet colour. Through this chakra, we are able to recognise our own divinity and it is said once you have mastered this chakra and all the chakras before it, you will have obtained a whole new level of wisdom and understanding accompanied by bliss and wholeness which makes you feel complete and connected to everything in the universe.
It is the polar opposite to the root chakra which keeps you grounded to the earth and this plane of existence whereas the crown chakra connects you to the spirit world. It allows you to fully and truly acknowledge your emotions and desires connecting you to the divine and recognising all elements of creation as a part of you.